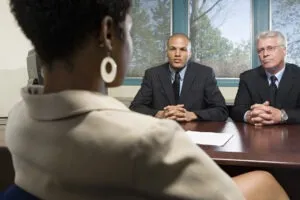 No employee should experience unfair treatment due to race, religion, gender identity, or any other protected category. There are several laws that protect workers from employment discrimination. When an employer violates anti-discrimination law, the employee has the right to take legal action and seek compensation.
If you believe you've been a victim of employment discrimination, a Pasadena employment discrimination lawyer can help you pursue justice. Contact the team at Domb & Rauchwerger to find out if you're eligible to file a claim and hold your employer liable for their discriminatory actions.
How to Determine If You're Being Discriminated Against
If your employer is rude or difficult to work with, it doesn't necessarily mean they are discriminative. Employment discrimination occurs when an employer takes adverse action against you because you are part of a protected category.
Understanding what protected categories and adverse actions are can help you determine whether or not you're being discriminated against.
For a free legal consultation with a discrimination lawyer serving Pasadena, call 213-537-9225
Understanding Discrimination Laws and Protected Categories
Over time, laws have established protected categories to safeguard certain groups of people that have a history of experiencing discrimination in the workplace. The following Federal laws protect specific groups of workers from unfair treatment:
The Civil Rights Act of 1964

:

This act

prevents employers from discriminating against individuals based on their race, color, religion, national origin, or sex.

The Age Discrimination in Employment Act of 1967

: This act protects workers over the age of 40 from age-based discrimination in the workplace.

The Americans with Disabilities Act (ADA)

: The ADA prohibits

discrimination against disabled workers

and requires employers to provide reasonable accommodations for workers with disabilities.

The Pregnancy Discrimination Act

: This act protects new and expecting mothers from

pregnancy discrimination

in the workplace.
California's Discrimination Law
California's discrimination laws offer more protection for workers in Pasadena. The Fair Employment and Housing Act (FEHA) prevents employers from taking adverse actions against workers based on a number of different categories, including:
Age (if over the age of 40)

Citizenship, national origin

Disability status/medical condition, genetic information

Gender identity, pregnancy status, sexual orientation, sex

Hairstyle

Marital status

Military/veteran status

Political affiliation

Race

Religion

Status as a victim of domestic violence or stalking
If an employer has treated you unfairly due to a protected category established by federal or state law, you may be able to pursue a claim with the help of an employment discrimination attorney from Pasadena. However, the treatment you've experienced must meet several requirements to be considered an adverse action and qualify as discrimination.
Pasadena Discrimination Lawyer Near Me 213-537-9225
How to Identify an Adverse Action
Any measure or action your employer takes that negatively impacts the terms, conditions, or privileges of your employment could be considered an adverse action. You may have experienced an adverse action if an employer has:
Discharged you

Failed to hire or promote you

Demoted you or reduced your pay

Relieved you of certain responsibilities

Gave you a negative performance review
If an employer makes a rude remark to you or does something that would only temporarily upset a reasonable person, it likely won't be considered an adverse action. If you're still unsure whether or not an employer has taken such an action against you, a Pasadena employment discrimination attorney can offer clarification.
Click to contact our Practice Areas today
Connecting the Adverse Action to Your Protected Category
To have grounds for an employment discrimination claim, you must be able to show that the adverse action was motivated by your being a part of a protected category. You'll first have to prove that the employer was aware of your protected category.
Proving the Employer Was Aware of Your Protected Category
If you believe you were discriminated against on the basis of skin color or another protected category that is visually obvious, proving that the employer was aware of your protected status will be fairly easy. However, it might be more difficult if you're pursuing legal action for mistreatment based on your pregnancy status and you're only a few weeks pregnant.
Fortunately, an employment discrimination attorney from Pasadena can use evidence such as testimony from other employees, letters, handwritten notes, computer files, and other records to prove that the employer knew about your protected category.
Proving the Adverse Action Was Directly Motivated by the Protected Category
Once you've proven that the employer was aware of your protected status, you still have to show that the unfair actions they took against you were motivated by your status. To do so, you'll need to show that the treatment you received differed from how employees who aren't in your protected category were treated.
For example, if you're a woman and received a pay cut, it's likely that you weren't discriminated against if all of your male coworkers got the same pay cut. However, if your and another female coworker's pay was reduced but none of your male coworker's pay was reduced, that could be evidence that your employer decided to pay you less because of your sex.
An employment discrimination lawyer from our team in Pasadena can work to find the evidence required to prove that the adverse action(s) you've been subjected to were motivated by your sex, gender identity, or another protected category.
Complete a Free Case Evaluation form now
Compensation and Remedies You Could Achieve from a Successful Claim
If your employment discrimination claim is successful, you could receive several types of damages and remedies. Depending on how the adverse action has affected you, you could receive any of the following damages:
Lost wages you would have received had you not been terminated

Other out-of-pocket costs you've incurred due to the discriminatory actions

Damages for any emotional distress you have suffered

Punitive damages, if applicable
Don't Quit Until You've Spoken to a Pasadena Employment Discrimination Attorney
We strongly suggest that you continue to work at your job until you've hired an employment discrimination attorney. If you do quit before hiring a lawyer, you will potentially have a claim for "constructive termination" but it is more difficult to prove than a wrongful termination claim.
To file a successful constructive termination claim, you'll have to show that the discrimination you were subjected to created such an unbearable work environment you were effectively forced to quit. Since the standard of proof for these types of claims is so high, attorneys always recommend that you stay at your job for as long as possible when filing a claim.
If your employment discrimination lawyer believes they have the evidence necessary to support a constructive termination claim, they may advise you to quit your job. To protect your right to compensation and remedies, wait for a lawyer to assess your situation and determine whether or not quitting is in your best interest.
Domb & Rauchwerger Have the Experience You Need to Win Your Case
Attorneys Zack Domb and Devin Rauchwerger used to be Partners at one of the largest employment defense firms in the nation. While helping employers fight discrimination complaints, they learned the tactics used to defend against employment-related claims.
Since then, Domb & Rauchwerger have decided to use their knowledge to help mistreated workers hold employers liable for discrimination, harassment, retaliation, and wrongful termination. So far, they've secured a number of impressive verdicts and settlements.
Domb & Rauchwerger know how to go up against intimidating corporate lawyers and win. Schedule a free consultation today to find out how they can help you hold your employer responsible for discrimination.
Schedule a Free Consultation with an Experienced Lawyer
If your employment has been affected by unfair treatment based on a protected category, Domb & Rauchwerger can offer the advice and representation you need to achieve justice. Contact a Pasadena employment discrimination lawyer today to schedule a free consultation and get started on your claim.
Call or text 213-537-9225 or complete a Free Case Evaluation form