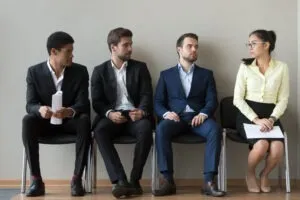 When you take on the responsibility of a job, you expect to be treated equally and fairly. Nobody deserves discrimination or harassment in the workplace. Employers who discriminate in the workplace violate Federal and California laws and are subject to fines, citations, and other consequences.
It's crucial to obtain legal advice from a skilled California employment discrimination lawyer if you were dismissed or forced to leave your work due to discriminatory practices. You have the right to take legal action to stop workplace discrimination and seek compensation for your losses.
We recognize the challenges of going up against a former employer and their attorneys. With years of experience resolving discrimination lawsuits, Domb & Rauchwerger can offer you the essential legal representation you need to uphold your rights.
Employees Are Protected By Federal and State Laws
As a starting point, federal laws offer solid protections against discrimination in the workplace. The most relevant laws include:

The Civil Rights Act of 1964 is a landmark piece of legislation that safeguards workers against unfair discrimination on the basis of race, color, religion, national origin, or sex.

The Pregnancy Discrimination Act was passed to extend the same rights to expecting and new mothers.

Employees above the age of 40 are likewise protected from

age discrimination

by the Age Discrimination in Employment Act of 1967.

Further federal legislation, the Americans with Disabilities Act (ADA), forbids discrimination in the workplace because of a person's physical disability. Employers must make reasonable accommodations for workers to do their jobs.
The Fair Employment and Housing Act (FEHA) is California's own state-wide anti-discrimination law. This statute extends protections beyond those afforded by federal law, including those based on your marital status, sexual orientation, gender identity/expression, or health status.
If you have been wrongfully discharged from your job due to discrimination, you can seek justice and compensatory damages with help from an employment discrimination attorney in California.
For a free legal consultation with a employment discrimination lawyer serving California, call 213-537-9225
What Is a Protected Category According to California Employment Law?
The FEHA states that you cannot be discriminated against because of any protected category under the law. These protected categories include, but are not limited to:

Race

National origin, citizenship

Age (if over the age of 40)

Religion

Sexual orientation, sex, gender identity, pregnancy status

Disability status/medical condition, genetic information

Marital status

Political affiliation

Hairstyle

Military/veteran status

Status as a domestic violence or stalking victim
California Employment Discrimination Lawyer Near Me 213-537-9225
What Actions Is My Employer Prevented from Taking Against Me Because of a Protected Category
When a company takes an "adverse action" against you because you belong to a protected class, that is discrimination. Any action or pattern of behavior by your employer that materially and negatively impacts the terms, circumstances, or privileges of your employment is considered an adverse action.
If you believe an adverse action has been taken against you, we encourage you to speak with an employment discrimination attorney from California. They can assess the situation and determine if filing a lawsuit against your employer is an appropriate response.
Common adverse actions besides termination include, but are not limited to:
Failure to hire

Failure to promote

Demotion in job title

Demotion in pay

Taking away your job responsibilities

Issuing you a negative performance review
Minor actions, such as criticism from a supervisor or being inconvenienced (such as your employer asking you to work an occasional weekend) likely would not rise to the level of an adverse action.
Click to contact our Practice Areas today
How Can I Tell if an Adverse Action Is Being Taken Against Me Because of a Protected Category
When assessing whether you believe your employer is discriminating against you, the key thing to look for is whether you are being treated differently than people who are not in your protected category.
For example, if you are a female worker and you see that several of your male coworkers have been promoted but neither you nor your female coworkers have, you may have a case against your employer based on gender discrimination.
Alternatively, if you are Hispanic and get written up for being late to work on one occasion, but all of the Caucasian employees are constantly late and never written up, that could also be another form of discrimination.
If you are being treated the same as everyone else, even if that treatment can be perceived as negative, then it is unlikely that you have a claim for discrimination since your employer is not singling you out and treating you differently because of your protected category.
Complete a Free Case Evaluation form now
Can I File an Employment Discrimination Lawsuit if I Was Forced to Resign?
You don't have to be fired to have a case against your employer, but you must have been hurt in some way because of discrimination against a protected characteristic.
It's called "constructive termination," when an employer knowingly allows or creates conditions at work that are so terrible that an employee has no choice but to quit.
If you are thinking about quitting because you are suffering from discrimination, you should speak with a lawyer first before making any decisions. One of our California employment discrimination lawyers can gauge the severity of your situation and determine if your resignation would be considered constructive termination. They can also advise you on any steps you should take to protect yourself before quitting.
What Legal Remedies or Damages are Available in an Employment Discrimination Lawsuit in California?
An employee can anticipate the following legal remedies from a successful employment discrimination lawsuit:
The employer must immediately stop all discriminatory actions and devise and put into practice measures to prevent discrimination in the future

Financial damages designed to compensate the employee for any out-of-pocket costs they incurred due to the discriminatory incident. This typically consists of lost wages that the employee would have received had he or she not been terminated.

Compensation for emotional suffering they endured, such as mental anguish or loss of enjoyment of life

Attorneys' fees and court costs

Punitive damages, if the employer's discrimination was particularly egregious
Other typical legal remedies might include providing the employee with necessary, specific, but reasonable accommodations to enable them to execute their jobs.
It is crucial to keep in mind that retaliation for making complaints of discrimination is also unlawful. That means your employer could encounter further repercussions if they retaliated in any way against you for exercising your rights.
Working with a California employment discrimination attorney can ensure that your legal rights are upheld.
Contact an Employment Discrimination Law Firm in California to Learn More
If you believe you have been discriminated against or your employer has taken an adverse action against you because of a protected category, contact our offices immediately to schedule a free consultation.
Domb & Rauchwerger have secured significant verdicts and settlements on behalf of employment discrimination victims, and we may be able to help you.
Call or text 213-537-9225 or complete a Free Case Evaluation form