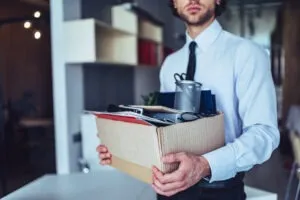 California is an at-will state, which means that you or your employer may end your employment relationship for any reason, at any time, provided that the reason is not illegal. Unless you have a written agreement in place that states that you can only be terminated for "good cause," then it is likely your employment is at-will.
Sometimes your employment may be so disruptive to your physical and mental well-being that you are left with no other option but to quit. You may still have a wrongful termination claim against your employer even if you are the one who initiates your separation from the company.
If you are thinking about quitting because you believe the situation at your job is intolerable, it is best to contact an attorney before making that decision. If you have been wrongfully terminated or your work situation has become intolerable, a California wrongful termination lawyer with Domb Rauchwerger may be able to help.
California Wrongful Termination Lawyer FAQ
We have compiled a list of our most frequently asked questions to help you learn more about unlawful termination and what your options are in case you believe you have been subjected to discriminatory actions.
For a free legal consultation with a wrongful termination lawyer serving California, call 213-537-9225
What Are Protected Classes?
There are both Federal and State laws that protect employees from being discriminated against, harassed, retaliated against, or wrongfully terminated based on various protected categories. According to California's Fair Employment and Housing Act (FEHA), you are protected from termination that's based on your:
Gender
Employers are prohibited from making decisions about hiring, firing, promotions, pay, or other terms of employment based on an employee's gender. If you believe that you have been wrongfully terminated due to your gender, you may be entitled to compensation.
Race
A race is a group of people categorized or joined together based on a shared history. Employment laws protect individuals of all races, not just people who belong to a racial minority. American Indian, Asian, Pacific Islander, African American, and Caucasian are some of the various racial groups.
Additionally recognized are bi-racial and multi-racial designations. It is illegal for someone to be discriminated against or fired because of their race.
Color
When it comes to wrongful termination, skin color can be an important factor in determining whether or not a person has been wrongfully terminated. This means that if an employer violates your employment rights because of your color, regardless of your race, they may be liable for certain damages.
National Origin
Individuals are classified into "National Origin" categories based on their physical, cultural, and linguistic features as well as their country of birth or the country of birth of their ancestors. In the United States, it is illegal for employers to discriminate against individuals based on their national origin.
It is crucial that companies are aware of their responsibilities and take the necessary precautions to make sure they are abiding by all relevant laws and regulations. Similarly, it's important to know your rights as a worker. A wrongful termination attorney in California can help a client evaluate whether a violation has occurred.
Sex, Sexual Orientation, Gender Identity, or Pregnancy Status
The state of California has some of the strongest laws in the country when it comes to protecting employees from wrongful termination based on their sex, sexual orientation, gender identity, or pregnancy status.
Federal law also prohibits employers from discriminating against employees based on any of these characteristics. This means that an employer cannot fire an employee simply because they are a certain sex, have a certain sexual orientation, identify as a certain gender, or are pregnant.
If you believe that you experienced a wrongful discharge due to any of these characteristics, it is important to contact a California wrongful termination lawyer as soon as possible.
Age, If Over the Age of 40
If you are over the age of 40 and believe you were fired because of your age, we encourage you to speak with a wrongful termination attorney form California. Age discrimination is illegal, and if you believe you were fired because of your age, you may be entitled to compensatory damages for lost wages and other losses.
A qualified attorney can review the facts of your case and determine if you have legal grounds to pursue an employment lawsuit.
Religion
Employers cannot discriminate against employees based on their religious beliefs or practices. Employers must also provide reasonable accommodations for employees to practice their religion, such as allowing time off for religious holidays or providing a private space for prayer.
If you feel your dismissal was based on your faith, you may have the right to take legal action.
Disability or Genetic Information
An employee with a disability is protected under the Americans with Disabilities Act (ADA) in the United States and California's FEHA, which prohibits employers from discriminating against employees with disabilities in the workplace.
An employer cannot fire an employee because of their disability or genetic information. Discrimination on the basis of disability or genetic information is illegal. The disability can be either mental or physical. An employer also cannot discriminate against an employee who they believe has a disability, even if that employee does not actually have a disability.
Similarly, genetic information is protected under the Genetic Information Nondiscrimination Act (GINA) in the United States, which prohibits employers from discriminating against employees on the basis of their genetic information.
California Wrongful Termination Lawyer Near Me 213-537-9225
What Are Some Common Reasons for Wrongful Termination Lawsuits?
If you were fired in California for any of the following reasons, you might have a case for wrongful termination.
Retaliation
An employee who files a complaint, requests medical leave, or reports illegal activities is protected against retaliation or termination of employment.
Discrimination Against a Protected Class
Employers can't fire people because of their race, color, sex, age, genetic information, national origin, ancestry, religion, physical or mental disability, marital status, sexual orientation, or gender identity.
Breach of an Employment Contract
Although unlikely, if you have a contract that states that you can only be terminated for "good cause," then the employer cannot terminate you unless they do in fact have "good cause."
Filing a Worker's Compensation Claim
In California, employers are not permitted to fire employees for filing a workers' compensation claim for work-related injuries.
Click to contact our Practice Areas today
How Does An Attorney Evaluate Wrongful Termination Cases?
When a worker is terminated, the most critical facts for an attorney to know is: 1) the reason that the employer provided for terminating the employee, and 2) if the employee suspects there is a different reason for why they were actually terminated.
For instance, if an employer fires an employee for a reason that has nothing to do with their job performance or behavior, this could be considered wrongful termination. The employer might disguise the unlawful reason and claim that it is based on the employee's job performance, even though the employee knows that the employer had an ulterior motive.
It is always unlawful to fire a worker because of their race, color, sex, age, genetic information, national origin, ancestry, religion, physical or mental disability, marital status, sexual orientation, or gender identity.
Complete a Free Case Evaluation form now
How Can I Protect Myself After a Wrongful Termination?
If you have been wrongfully terminated or suspect that you will be wrongfully terminated in the near future, there are a few key actions you can take to ensure you have the documentation and legal counsel required to protect your rights.
Make sure to take the following steps as soon as you can:
Speak with a Lawyer
If you believe you are about to be terminated, a wrongful termination lawyer can help advise you on what steps you should take prior to your termination in order to set up the strongest case possible.
If you have already been fired, a California wrongful termination lawyer can help you understand whether you have a potential case and can explain the various steps of a lawsuit. They can also determine whether it makes sense to attempt to resolve the matter through mediation before filing a suit.
Assemble Evidence
Gather any paperwork, emails, or other supporting documentation. This can include any material that demonstrates that you were treated differently from other workers or that retaliation or discrimination played a role in your termination. This includes emails or meeting notes where your work performance or conduct was discussed.
Keep track of everything you do during your search for new employment. Don't forget to document the job applications you've sent in and the interviews you've attended. Documenting the money you've lost, the stress you've been under, and any other negative effects the job termination has had on your life will help demonstrate damages should you proceed with litigation.
Submit a Complaint
Every employee has the ability to lodge a charge with the Equal Employment Opportunity Commission (EEOC) or the California Department of Fair Employment and Housing (DFEH). California's anti-discrimination, harassment, and retaliation laws are enforced by the DFEH, a state agency, while the EEOC, a federal agency, enforces anti-discrimination, harassment, and retaliation laws across the country.
However, it is recommended that you do not file an EEOC or DFEH charge until you speak with an attorney. If you have a case, the attorney will typically file the EEOC or DFEH charge for you to ensure that the appropriate information and language are included.
File a Lawsuit
Your attorney will advise you on whether or not you have legal grounds to file a claim and will guide you throughout the litigation process.
How Long Do I Have to File a Wrongful Termination Lawsuit in California?
A statute of limitations is the amount of time you have to file a lawsuit after you have suffered a particular injury. The particular length of the statute of limitations depends on the claim. According to California state law, you have three years to file a claim under the Fair Employment and Housing Act.
However, there are additional wrongful termination claims that only have a 2-year statute of limitation. You can learn how long you have to file your specific civil action by speaking with a California employment attorney or wrongful termination attorney from our firm.
What if I Am a Contract Employee or I Work for a Company With Less Than Five Employees?
The FEHA only applies to employers with at least five employees and does not protect independent contractors. However, you should consult with an attorney if you have been classified as an independent contractor because many employers misclassify workers as independent contractors.
If FEHA does not apply to you because of the size of your employer, you can still file a wrongful termination claim based on a violation of public policy.
If you believe you have been discharged for an illegal reason, a wrongful termination lawyer can evaluate the situation, help you to gather evidence, and pursue legal action through a wrongful termination lawsuit.
What Type of Compensation Can I Receive from a Successful Wrongful Termination Lawsuit?
If you hire an attorney to proceed with filing a wrongful termination claim against your former employer, there are essentially two ways for you to recover compensation. The first manner of recovery is if the employee and employer, with the assistance of their attorneys, decide to settle the matter. A settlement is an agreement between the two parties where the employee agrees to dismiss their case, typically for a specific sum of monetary compensation. The second manner of recovery is if you and your attorney win your lawsuit either at trial or in arbitration.
If you receive a ruling in your favor either from a jury, judge, or arbitrator, you can generally recover three types of damages: economic damages, emotional distress damages, and punitive damages.
Economic Damages
Economic damages include any wages or salary you would have gotten if you hadn't been fired. In some cases, you may also be able to get compensation for future lost income if your former employer's actions kept you from getting another job.
Non-Economic Damages
Non-economic damages are awarded to plaintiffs who experienced emotional distress. If your termination caused you to experience mental pain or trauma, these damages can give you the financial support you need to cope with your distress.
Punitive Damages
If one of the officers, directors, or managing agents of your employer either engaged or ratified the wrongful conduct against you in a malicious, fraudulent, or reckless oppressive manner, you may also be awarded punitive damages.
Securing legal representation from an experienced employment lawyer can help you cement your claim and obtain the damages you're owed.
Can a California Wrongful Termination Lawyer Help Me With Other Employment Law Concerns?
An employment lawyer from our firm can answer all your employment questions, including those related to the following topics:
Leaves of Absence
Employees may be entitled to take leaves of absence for a variety of reasons, including medical, family, or military leave. Depending on the size of your company and the amount of time you have worked for your employer, you may be entitled to an unpaid leave of absence under the Family and Medical Leave Act (FMLA) and the California Family Rights Act (CFRA).
Retaliation
It is illegal for an employer to retaliate against an employee who engages in a protected activity. One form of retaliation is a wrongful termination, but employers can retaliate against employees without terminating them, such as through demotions or negative performance reviews.
Protected activities include complaining to your employee or an outside agency that you believe your employer is doing something illegal. Complaining to your employer that you or others that you work with are being harassed or discriminated against based on a protected category is also considered a protected activity.
In California, employers are prohibited from retaliating against employees who exercise their legal rights.
Sexual Harassment
Sexual harassment is illegal in California. It occurs when a supervisor or co-worker creates a hostile work environment by making sexually suggestive comments, asking for sexual favors, or engaging in other such verbal or physical behavior that is not welcome and based on a person's gender or sex
This type of behavior can be intimidating, hostile, and offensive to the victim and can lead to a wrongful termination.
While sexual harassment is often the most common form of harassment, an employer cannot harass an employee based on any protected category under the law, including race, religion, disability, etc.
Misclassification
There are two types of misclassification that an employer can engage in. The first type of Misclassification occurs when an employer incorrectly classifies a worker as an independent contractor instead of an employee. The second type occurs when an employer misclassifies an employee as a salaried, exempt employee as opposed to an hourly, non-exempt employee.
Non-exempt employees are entitled to all of the protections of California's wage and hour laws including the right to receive overtime for working more than eight hours in a day or forty hours in a week, as well as the right to receive meal and rest breaks depending on the length of the shift.
Employers sometimes misclassify workers intentionally to avoid paying them what they are entitled to. Misclassification can also be done unintentionally due to a misunderstanding of the law. Either way, it's important to contact an attorney if you believe you've been incorrectly classified.
Unpaid Minimum Wages and Overtime Wages
Unpaid wages are a common issue for many California workers. If you believe that you were not paid wages you are owed, it is important to contact an experienced California lawyer.
An experienced attorney can help you understand your rights under California law and determine whether or not you have a valid claim for unpaid wages.
Meal and Rest Breaks
In California, employers must provide non-exempt employees with meal and rest breaks. According to the California Labor Code, employers must provide an uninterrupted, 30-minute, unpaid meal break for every five hours of work and a 10-minute paid rest break for every four hours of work, or major fraction thereof.
If an employer fails to provide these breaks, or if they are not taken in accordance with the law, then the employee may be entitled to compensation. An experienced California attorney can help you understand your rights and determine whether or not you have a valid claim.
Disability Discrimination and Accommodation
Disability discrimination in the workplace is illegal under both federal and California state law. If an employee has a disability that affects their ability to perform their job duties, employers must make reasonable accommodations to help them do their job. This could include providing special equipment or making changes to the workplace.
Employers must provide reasonable accommodations for employees with disabilities unless doing so would cause an undue hardship on the employer or create a safety risk.
Pregnancy Discrimination
Pregnancy discrimination is a form of gender discrimination that is prohibited under both federal and California state laws. Pregnant women are protected from discrimination in the workplace, including wrongful termination.
If you have been wrongfully terminated due to your pregnancy or related medical condition, you may be entitled to compensation for lost wages, emotional distress, and other damages.
Medical Discrimination
If a company treats an employee differently because of their medical condition (or because they suspect the employee has a medical problem), they are breaking the law.
The law protects you from having to disclose your health information to a potential or current employer, but employers sometimes think a person has a medical condition even when there is no evidence. For example, if someone tells your boss that you have a medical condition, whether or not you actually do, your boss can't treat you differently because of it.
How do I Know If My Employer Is Behaving Unlawfully or Violating My Employee Rights?
There are several ways to determine if your employer is behaving unlawfully or violating your employee rights. Discrimination based on race, gender, age, religion, or other protected characteristics may take the form of:
Refusing to take you on as an employee

Declining to select you for a training program

Firing you

Compensating another employee differently than you

Rejecting you from promotions or demoting you

Withholding your benefits

Refusing to reinstate you

Forcing you to quit

Subjecting you to harassment

Decreasing your pay

Declining to provide reasonable accommodations for a disability
If you believe your employer is engaging in unlawful employment practices, a California wrongful termination and employment rights lawyer may be able to help you.
Contact a California Wrongful Termination Law Firm Today
Domb & Rauchwerger is committed to answering your questions about legal issues surrounding employment law and your rights in the workplace in the State of California. Our attorneys have helped countless people to seek justice when faced with unfair labor practices.
Our attorneys have successfully represented clients in a variety of employment law matters, including wrongful termination, discrimination, sexual harassment, wage and hour disputes, and more.
At Domb & Rauchwerger, we understand the emotional and financial toll that a wrongful termination can take on an individual and their family. If you were discharged for unlawful reasons, we'll gladly discuss your case with you at your convenience. Contact us today to schedule an appointment for a consultation.
Call or text 213-537-9225 or complete a Free Case Evaluation form