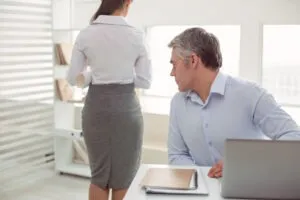 When you are dismissed or forced to quit your job due to sexual harassment, you may feel violated and helpless. The complexity of sexual harassment lies in the fact that it can take numerous forms and is not always visible.
Whether you suffered a single major incident or harassment that was persistent enough to create a hostile or offensive work environment, you may have a valid claim. The California sexual harassment lawyers at Domb & Rauchwerger may be able to help.
If you have been victimized at work to the extent that you have left your job or if you have been wrongfully terminated because of sexual harassment, we are here to discuss your situation and help you understand your legal options to pursue justice and compensation.
Hostile Work Environment and Quid Pro Quo
Sexual harassment can be divided into two categories: hostile environment and quid pro quo. Quid pro quo occurs when a job benefit (such as a promotion, wage raise, or positive performance review) is conditioned either directly or indirectly on the employee consenting to some form of sexual conduct.
Hostile work environment is more encompassing and entails any unwelcome conduct based on sex that is sufficiently severe or pervasive enough to influence the employee's conditions of employment and create an abusive working environment.
What Counts as Sexual Harassment on the Job in California?
The most prevalent form of harassment is sexual harassment, which can be directed at female or male employees of the opposite or same sex. A major problem with sexual harassment on the job is that it is not always easy to spot. It's possible to be subjected to this type of harassment at work and not even realize it. Feeling awkward or having to fend off unwanted advances could be experienced.
When behavior of this type disrupts the workplace for you or your co-workers and causes dread, anxiety, or discomfort, it is considered a hostile work environment, and you may have legal grounds for a claim.
However, there are some instances where you might not be able to identify the behavior you experienced as sexual harassment. An experienced California sexual harassment attorney can help to identify any illegal actions in your situation.
Examples of Sexual Harassment in the Workplace
Unwanted sexual advances in the workplace, such as solicitations for sexual favors in exchange for perks (sometimes known as quid pro quo), are some of the most obvious examples.
However, sexual harassment can also refer to a wide range of other inappropriate and offensive behaviors. Examples include, but are not limited to:
Openly discussing or asking employees about sexual proclivities or sexual orientation

Giving unwelcome romantic or sexual gifts

Repeated remarks or commentary about an employee's looks, attractiveness, or appearance

Making sexually suggestive jokes

Sexually provocative or explicit texting or emailing

Spreading sexually charged rumors about a coworker

Distributing or displaying revealing, inappropriate, or nude photos
Remember that sexual harassment doesn't have to be targeted at you specifically to be offensive. For example, if male employees rate female clients' attractiveness, it can be considered a hostile environment to others in the office.
Even if you are not the direct target of sexual harassment in the workplace, you may still be subject to bystander harassment and experience emotional distress as a result of witnessing such behavior.
Title VII of the Civil Rights Act of 1964 and the California Fair Employment and Housing Act were drafted to protect your rights and describe sexual harassment laws in detail. If you have questions about your situation, a sexual harassment lawyer from California can explain these laws and your rights.
Is Sexual Desire a Condition of Sexual Harassment?
The person engaging in sexually harassing conduct does not have to be motivated by a sexual desire. It is enough that the conduct is based on sex or gender. Furthermore, sexual harassment does not have to come from a person of the opposite sex.
For example, a female supervisor can sexually harass a female employee when the sexual harassment has nothing to do with sexual desire or motivation. No matter who you are, you do not deserve to be subjected to these types of abusive behaviors.
How Frequently Must Harassing Behavior Happen to Create a Hostile Work Environment?
If a California sexual harassment attorney takes your case to trial, the court will look at several things to decide if the harassing behavior you experience is severe or pervasive enough to be considered a hostile work environment. These include whether the behavior is physically threatening, if it interferes with job performance, how often it happens, and how bad it is.
Some actions are so serious that they can be considered sexual harassment under the law, even if they only occur once. Less extreme but repeated weekly behavior may also qualify as sexual harassment that can be taken to court.
Whether someone's actions create a sexually hostile work environment is based on both objective and subjective factors. The court will evaluate whether a reasonable person in the employee's situation would view the workplace as hostile and if the employee genuinely felt that way.
When Employers Can Be Held Responsible
If a supervisor engages in sexually harassing conduct that creates a hostile work environment, your employer is assumed to have knowledge of the conduct and is automatically liable.
On the other hand, in order to hold an employer responsible for sexually harassing conduct committed by a coworker, vendor, or non-employee, the employer: 1) either must be aware of the conduct or should have reasonably known of the conduct, and 2) failed to take immediate action to fix it.
It is, therefore, critical, particularly if the sexually harassing conduct is engaged in by a coworker, for you to report the sexually harassing conduct to your employer in the form of a written complaint. A sexual harassment attorney at Domb & Rauchwerger can advise you on what to write in your complaint.
Furthermore, unlike discrimination and retaliation claims that can only be brought against an employer and not an individual, an individual can be held personally liable for sexual harassment.
Retaliation for Reporting Workplace Sexual Harassment Is Against the Law
It's common for victims of sexual harassment to feel helpless and hesitant to come forward for fear of facing retaliation in the workplace. This is a widespread issue, however, employees who report discrimination or harassment at work are protected from retaliation by state and federal laws.
If you believe you have been retaliated against after making a compliant of sexual harassment, an employment lawyer can help. It is important to seek immediate legal counsel if you suspect that your employer has retaliated against you or fired you for filing a sexual harassment complaint or for reporting unlawful actions.
Our California sexual harassment lawyers can examine your situation and offer legal counsel on the best course of action. We recognize the gravity of the situation and will fight tirelessly to defend your rights and see that justice is delivered.
Contact a California Sexual Harassment Law Firm Today
If you believe you have been subjected to sexually harassing conduct or any other type of harassment based on a protected category, or if you believe you have been retaliated against for reporting sexually harassing conduct, please contact our offices and schedule a free consultation with a California sexual harassment lawyer.
Domb & Rauchwerger is committed to answering your questions about employment law and harassment in the workplace. If we agree to take on your case, we'll provide the legal advice and advocacy you need to protect your rights.