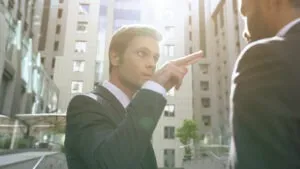 The freedom to report workplace harassment or discrimination without fear of reprisal is a fundamental employee protection. Yet far too many employers penalize workers who exercise their legal rights.
An employment retaliation-related job loss can upend your life and throw your career into chaos. When you are facing a corporate giant, you need experience on your side. Zack Domb and Devin Rauchwerger have built their careers on helping employees obtain justice against employers who violate the law.
Throughout their years of practice, they have helped clients with countless varieties of employment disputes, including employment retaliation. The California employment retaliation lawyers at Domb & Rauchwerger understand what it takes to fight corporate bullies and aggressively pursue justice.
What Exactly Makes an Employee Retaliation Claim?
There are several statutes that protect workers in California from employment retaliation for engaging in certain protected activities.
There are essentially three elements to any retaliation claim:
The employee must have engaged in a "protected activity"

The employee must have suffered an "adverse action"

A causal link exists between the protected activity and the adverse action
For a free legal consultation with a employment retaliation lawyer serving California, call 213-537-9225
What Are Protected Activities?
The term "protected activity" refers to engaging in an activity that is protected under the law.
There are numerous types of activities that are considered "protected activities" under the retaliation statutes. Some examples of protected activities include the following:
An employee who complains to their employer about an act that they reasonably believe is unlawful

An employee who is asked to do something by their employer that is illegal, and the employee refuses to do it

Filing a complaint about your employer with a government entity such as the

California Labor Commissioner

, the Department of Fair Employment and Housing (

FEHA

), or the Equal Employment Opportunity Commission

EEOC

Participating in an investigation conducted by a government entity

Taking a protected medical leave.

Requesting reasonable accommodations due to a physical or mental disability

Making complaints of unlawful discrimination or harassment to your employer or an outside agency
An employee who complains about illegal activity does not have to be ultimately correct that the action in question was illegal. Even if it turns out that the behavior wasn't illegal, the employee can't be punished for complaining about it as long as they had a good faith belief that it was illegal.
An experienced employment retaliation lawyer in California can determine if you have the legal grounds for a claim.
California Employment Retaliation Lawyer Near Me 213-537-9225
What does the Law Consider to Be an Adverse Action?
To be eligible to file an employment retaliation claim, your employer must have taken an adverse action against you. Any action or pattern of behavior by an employer that materially and negatively impacts the terms, circumstances, or privileges of your employment is considered an adverse action.
Common adverse actions include:
Discharging or firing you

Failing to promote you despite you being a qualified employee

Cutting or reducing your pay

Giving you an unfair negative performance evaluation

Demoting you

Suspending your benefits

Verbally abusing you or disparaging you publicly or in the media

Relieving you of job responsibilities
Click to contact our Practice Areas today
Demonstrating a Connection to Prove Employment Retaliation
A California employment retaliation attorney must be able to show a connection between the protected activity you engaged in and the adverse employment action in order to satisfy the third element of a retaliation claim.
For instance, if you complained about gender discrimination at work and got demoted the following day, it's reasonable to assume that the demotion was in response to your complaint.
There are many different types of evidence that can be used to show the connection between a protected activity and an adverse action, such as:
Time Proximity
If the adverse action occurred at the same time as or after the protected activity, time proximity can be used as evidence of employment retaliation. The closer in time the protected complaint is to the adverse action, the stronger the inference that the adverse action was motivated by the protected activity.
Employer Knowledge of a Protected Activity
To demonstrate a causal link, the employer must have known about the protected activity. For example, if you complained to a coworker about conduct you believed was illegal, but that information was never relayed to your supervisor, who issues you a negative performance review, it's unlikely that a causal connection could be demonstrated.
An Established Pattern of Behavior
Your employer engaged in a pattern of conduct that could be considered retaliatory, such as treating you in a hostile manner after you made a complaint. If an employment retaliation attorney from California finds evidence of such behavior, they'll have what they need to construct a strong claim.
Complete a Free Case Evaluation form now
Compensation You Could Receive from an Employment Retaliation Claim
If your employment retaliation claim is successful, you could receive compensation in the form of economic damages, non-economic damages, and punitive damages. Economic damages compensate an employee for lost wages as a result of being terminated, as well as other out-of-pocket expenses such as health insurance payments.
Non-economic damages include compensation as a result of emotional distress that you suffered as a result of being unlawfully retaliated against. Finally, punitive damages can be awarded in some circumstances to punish the employer to ensure that they do not retaliate against other employees in the future.
How Much does a California Retaliation Attorney Cost?
An attorney can provide invaluable assistance to you if you've been wrongfully retaliated against in the workplace. At our office, we understand that many victims of retaliation may be hesitant to pursue legal action due to financial concerns.
That is why Domb & Rauchwerger offers representation on a contingency fee basis. This means that you won't have to pay any expenses out of pocket and do not owe any attorneys' fees. If Domb & Rauchwerger is able to obtain monetary compensation for you either through a settlement or at trial, they will receive a certain percentage of the amount recovered.
If Domb & Rauchwerger are not able to obtain monetary compensation for you, then you do not owe anything. Domb & Rauchwerger is committed to fighting for your rights while minimizing your financial burden.
When Your Career Has Been Compromised, There Is No Substitute for Expert Legal Representation
Domb & Rauchwerger was founded by employment law attorneys who formerly worked on behalf of Fortune 500 employers to represent company interests in employment matters. This experience shaped their knowledge of the potential obstacles and challenges you may face as a victim of employment retaliation since they understand how companies think.
Domb & Rauchwerger decided it was time for employees to have the same legal firepower that the big companies do and opened up their own firm to represent employee interests.
Domb & Rauchwerger understands corporate legal teams' strategies and can use their knowledge to obtain impressive results. If you believe you have been subjected to unlawful retaliation, please contact our offices immediately to schedule a free consultation with a California employment retaliation lawyer.
Call or text 213-537-9225 or complete a Free Case Evaluation form