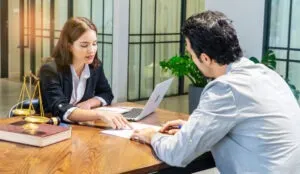 Employees shouldn't have to fear pay cuts, demotions, or firing for reporting workplace harassment and discrimination. Unfortunately, many employees who want to create a safer and more just workplace are punished for exercising their rights as workers.
Domb & Rauchwerger understands how devastating it can be to lose your job or suffer other consequences for engaging in activities that are protected by law. That's why attorneys Zack Domb and Devin Rauchwerger are committed to holding employers responsible for retaliating against workers who've done nothing wrong.
If you're a victim of unlawful workplace reprisal, contact a Pasadena employment retaliation lawyer today. They'll meet with you to discuss your case and determine if you're eligible to pursue compensation.
How do I Know If I Have an Employment Retaliation Claim?
To file an employment retaliation claim, you must have suffered an "adverse action" for engaging in a "protected activity." For example, you may be able to seek damages from your employer if they gave you a bad performance review because you took protected medical leave.
A crucial part of every employment retaliation claim is proving a connection between the protected activity and the adverse action. Proof of causation shows that your poor performance review was motivated by the time you took off, as opposed to an actual decrease in your work ethic.
An employment retaliation lawyer in Pasadena can assess your situation and advise you if filing a claim is right for you. Until then, familiarizing yourself with protected activities, adverse actions, and the methods attorneys use to prove causation can give you a rough idea of whether or not you have the grounds for a claim.
Protected Activities
California law is specific about the workplace activities employers are prohibited from retaliating against. Even if you believe what you did was right, you won't be able to seek compensation from your employer unless your action(s) are legally recognized as protected activity.
According to retaliation statutes, an employer may not take adverse action against you for any of the following activities:
Taking protected medical leave such as

family, medical, or pregnancy disability leave

Complaining to your employer about an act that you reasonably believe to be unlawful

Refusing a request from your employer to do something illegal

Requesting reasonable disability accommodations

Reporting unlawful harassment or discrimination to your employer or a third-party agency

Participating in a government-led investigation that involved your employer or workplace
It's also against the law for your employer to retaliate against you for filing a claim about them with the Department of Fair Employment and Housing (FEHA), the Equal Employment Opportunity Commission EEOC, or the California Labor Commissioner.
Understanding your rights as a worker can be difficult without the help of a skilled lawyer. Contact a Pasadena employment retaliation attorney today to find out if the action you were punished for was a protected activity.
Adverse Actions
As mentioned earlier, an adverse action is the second element of an employment retaliation claim. You might have grounds for a claim if your employer took one of the following actions against you after you took part in a protected activity:
Firing you

Demoting you

Reducing your pay

Taking away benefits

Taking away responsibilities from your role

Verbally abusing you

Making false assertions about you to others

Giving you a poor performance review
These are just a few examples of the adverse actions you could file a claim for. If you're unsure whether the treatment you experienced is considered an "adverse action," an employment retaliation attorney in Pasadena can give you the information you need
For a free legal consultation with a retaliation lawyer serving Pasadena, call 213-537-9225
Proving Causation Between Your Protected Activity and the Adverse Action Taken Against You
Establishing causation is essential when filing an employment retaliation claim. There are several things your attorney can do to prove that the adverse action taken against you was motivated by a protected activity, including:
Demonstrating the Timeline of Events
When attempting to prove causation, it can be helpful if your lawyer is able to show that your employer initiated an adverse action immediately after or soon after your protected activity. The closer the adverse action is to the protected activity, the more likely your claim will be successful.
Our employment retaliation lawyers can help you construct an accurate timeline of events to show that the punishment you received is likely connected to a protected activity because of close proximity in time.
Showing Your Employer Was Aware of the Protected Activity You Participated in
To hold your employer responsible for an adverse action, you'll have to prove they were aware of the protected activity in which you took part. For example, if they had no idea that you filed a discrimination report or complained about illegal business practices, it would be impossible for them to have unlawfully retaliated against you.
A lawyer can help you recover evidence that shows your complaint or report was passed on to your supervisor or employer.
Referencing a Pattern of Retaliatory Behavior
Another way to show causation is to refer to evidence that shows your employer retaliated against you multiple times after becoming aware of your protected activity. If your attorney is able to establish a pattern of retaliatory behavior, they'll be one step closer to proving causation.
Pasadena Retaliation Lawyer Near Me 213-537-9225
Damages You Could Obtain from an Employment Retaliation Claim
If your employment retaliation claim is successful, you could receive several different damages. If you were fired for engaging in a protected activity, you could be awarded compensation for lost wages and healthcare payments.
You may also be entitled to compensation for emotional distress, depending on how the retaliation has affected your mental health. Such damages could help you pay for counseling sessions to cope with the suffering you've experienced. Finally, you could also be entitled to punitive damages to punish the employer for their bad conduct.
Click to contact our Practice Areas today
Benefits of Working With Domb & Rauchwerger on Your Claim
If you need to pursue an employment retaliation claim in Pasadena, it's important that you work with an attorney who has experience representing workers whose rights have been violated. Attorneys Zack Domb and Devin Rauchwerger have 27 years of combined experience doing exactly that.
If you choose to work with Domb & Rauchwerger, you won't have to worry about paying a traditional legal fee. Instead, you'll pay a contingency fee, which is an agreed-upon portion of the compensation you receive from your claim. If your attorney loses your cases, you won't have to pay.
Complete a Free Case Evaluation form now
Our Team Can Help You Protect Your Employment Rights
Zack Domb and Devin Rauchwerger founded Domb & Rauchwerger after representing Fortune 500 companies and realizing how difficult it can be for a worker to combat employment retaliation, workplace discrimination, sexual harassment, and wrongful termination.
Domb & Rauchwerger understand the tactics that corporate attorneys will use to try to harm your claim and your chances of receiving the damages. The team at Domb & Rauchwerger can draw on their impressive knowledge and experience to get the results you deserve.
Contact our offices today to schedule a free consultation with a Pasadena employment retaliation lawyer and take the first step toward your compensation.
Call or text 213-537-9225 or complete a Free Case Evaluation form