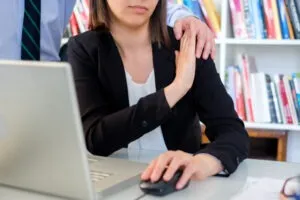 Pasadena Sexual Harassment Lawyers Committed to Fighting for You
Under California law, sexual harassment in the workplace is illegal. That said, sexually harassing conduct can sometimes be subtle and hard to identify. Knowing how to identify sexual harassment and learning about what you can do to hold offending coworkers and supervisors liable for their actions can help you protect your right to a safe workplace.
The team at Domb & Rauchwerger is committed to helping victims of workplace sexual harassment get the compensation and peace of mind they need to recover from a hostile work environment. If you've been a victim of any form of sexual misconduct, contact a Pasadena sexual harassment lawyer to get the legal advice and representation you deserve. Call or email one of our California Sexual Harassment Lawyers today. 
For a free legal consultation with a sexual harassment lawyer serving Pasadena, call 213-537-9225
Understanding the Two Main Types of Workplace Sexual Harassment
Sexually harassing conduct in the workplace often falls under one of two categories; hostile work environment and quid pro quo. Contact a sexual harassment lawyer from Pasadena today if you've experienced either of the following forms of harassment:
Hostile Work Environment Sexual Harassment
Hostile work environment sexual harassment is a broad term that refers to any type of conduct that is unwelcome, related to gender or sex, and significant enough to create an abusive environment or negatively affect the conditions of your employment.
Quid Pro Quo Sexual Harassment
This type of sexual harassment occurs when a supervisor directly or indirectly offers an employee a raise, promotion, or another work benefit on the condition that they consent to engage in sexual conduct.
If you've been subjected to quid pro quo or hostile work environment sexual harassment, a Pasadena sexual harassment attorney can help you gather evidence to file a claim against the guilty party.
Pasadena Sexual Harassment Lawyer Near Me 213-537-9225
Examples of Sexually Harassing Conduct in the Workplace
Within the two main types of sexual harassment, there are many different examples of workplace sexual misconduct you may experience. Examples of sexually harassing conduct include but aren't limited to the following:
Making sexual jokes

Sending a sexually suggestive or explicit email

Spreading a sexual rumor about a coworker

Showing a coworker an inappropriate or nude photo

Asking a coworker about their sexual preferences

Giving sexual or romantic gifts
California's Fair Employment and Housing Act (FEHA) protects workers from the above conduct and other forms of sexual harassment. If you've been affected by sexual harassment at your job, you have the right to pursue legal action.
Even if you weren't the direct target of sexually harassing behavior, you might still be eligible to pursue justice. For example, if your coworkers openly spoke about another coworker in a sexual way, you could pursue damages for bystander harassment. However, if the sexually harassing conduct is not directed at you but instead directed at someone else, the harassment will typically need to be more severe in order for you to succeed on your claim.
Click to contact our Practice Areas today
How a Sexual Harassment Attorney from Pasadena Can Help You
If your coworker or supervisor has acted inappropriately towards you, you might not know who to turn to for help. Fortunately, Domb & Rauchwerger's sexual harassment attorneys in Pasadena can assess your situation and advise you on your best course of action.
They'll perform the following services to help you move forward after being subjected to sexually harassing conduct:
Determine If You Were Subjected to a Hostile Work Environment
If you file a claim against a coworker or supervisor for hostile work environment sexual harassment, the jury will base its ruling on several different factors, including:
Whether or not the misconduct was physically threatening

How much the harassment interfered with your work performance

How often the sexual misconduct occurred

How severe the sexually harassing conduct was

The degree of discomfort and emotional distress the conduct caused
Before you file a claim, an attorney can review the details of your case and determine if the offending party's actions were severe or frequent enough to have created a hostile work environment. If a Pasadena lawyer finds that you have grounds for a claim, they can help you prove that your employer should be held liable for the sexual harassment you experienced.
Prove that Your Employer Should Be Held Responsible
To hold an employer responsible for sexually harassing conduct by a supervisor, you just need to provide evidence that the harassment occurred. You won't have to show that your employer was aware of the misconduct because employers are considered to be automatically liable for harassment committed by supervisors.
If you were sexually harassed by a coworker, you'll have to prove the following elements to hold your employer liable for the misconduct you were subjected to:
Your employer was aware of the sexually harassing misconduct or should have been aware of it

Your employer failed to take action to fix the situation
Collecting and presenting the evidence necessary to prove liability can be difficult. A sexual harassment lawyer in Pasadena can help you organize the documents and records you need to support your claim and obtain the damages you're owed.
Demand the Compensation and Remedies You Deserve
Before they take your case to court, your lawyer will meet with you to discuss the impact that workplace sexual harassment has had on your finances, employment, and mental health. Based on the information you provide, they may pursue any of the following damages:
Back pay

: If you were

wrongfully terminated

or forced to quit due to a hostile work environment, a successful claim might yield back pay for lost wages, bonuses, benefits, retirement plan contributions, and paid time off. You may receive back pay from the beginning of your claim to the day it is resolved.

Emotional distress

: Dealing with unwanted sexual conduct and a hostile work environment can lead to anxiety and

emotional distress

. These damages can help you seek counseling and cope with the distress you've experienced.

Front pay

: You may be awarded front pay, which includes the wages you would have received if you had not been terminated or forced to quit your job due to a hostile work environment.

Reputational harm

: If your reputation was harmed due to the sexual misconduct committed against you, you deserve compensation to make up for the damage that's been done.

Punitive damages

: These damages can be used to punish your employer and deter others from engaging in similar misconduct in the future.
Complete a Free Case Evaluation form now
Don't Quit Until You've Spoken to a Pasadena Sexual Harassment Attorney
At Domb & Rauchwerger, we understand how difficult it can be to continue working in a hostile environment. However, it may be in your best interests to continue working at your job until an attorney is able to pursue compensation for the sexual harassment you've experienced.
If you quit, you'll have to file a constructive discharge claim, which is more difficult to prove than a wrongful termination claim, so it's important that you have the right evidence available to prove that your situation was so bad that you had no other choice but to leave. Before you quit, consult with a sexual harassment attorney located in Pasadena. They'll offer the legal advice you need to make smart decisions and improve your chances of receiving damages.
Schedule a Free Consultation With an Experienced Attorney
Attorneys Zack Domb and Devin Rauchwerger both have years of experience litigating sexual harassment, discrimination, and other employment-related claims. Given their years of experience as Partners at one of the largest employment defense firms in the country, they know how employment defense lawyers operate and have the inside knowledge you need to hold your employer accountable and liable for the sexual harassment you've experienced.
To get the experienced legal advice and representation you need to file a successful claim against your employer, contact Domb & Rauchwerger and schedule a free, no-obligation consultation.
Call or text 213-537-9225 or complete a Free Case Evaluation form