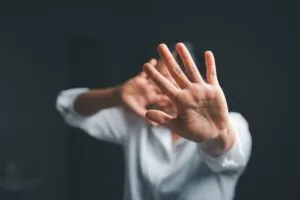 Under California law, sexually harassing conduct is prohibited in the workplace. That said, many workers experience sexual harassment every year, and some are affected by forms of harassment that are harder to identify than others. If you believe you've faced or are currently dealing with this type of workplace harassment, you have the right to take legal action.
A San Marino sexual harassment lawyer from Domb & Rauchwerger can help you determine if the conduct you've been forced to endure qualifies as sexual harassment. If it does, our sexual harassment lawyers in California can prepare a strong case on your behalf and pursue the financial remedies you deserve from the offending party.
Types of Sexual Harassment a San Marino Lawyer Can Take Action Against
There are two main types of sexual harassment you may face in the workplace. Our attorneys have experience combating both forms of harassment and securing impressive case results for workers affected by sexual harassment in the workplace. We're confident that we have the legal knowledge and resources required to help you recover from either of the following types of harassing conduct:
Hostile Work Environment Sexual Harassment
This type of harassment occurs when unwelcome conduct related to gender or sex creates a workplace environment that negatively impacts your performance or has other detrimental effects on the conditions of your employment.
Quid Pro Quo Sexual Harassment
Quid pro quo sexual harassment occurs when a boss or supervisor offers you a work benefit, like a pay raise or a promotion, in exchange for your participation in sexual conduct. The authority figure's offer may be made directly or indirectly. Either way, it will still qualify as quid pro quo harassment.
If you believe you're a victim of either of the above-mentioned forms of harassment, you don't have to suffer in silence. A San Marino sexual harassment attorney can assess your circumstances and determine if you have grounds for a claim.
For a free legal consultation with a sexual harassment lawyer serving San Marino, call 213-537-9225
Examples of Workplace Sexual Harassment Our San Marino Lawyers Can Help You Recover From
Since sexual harassment can come in many forms, it can be difficult to tell whether you're a victim of unlawful workplace conduct. Familiarizing yourself with examples of sexual harassment can give you a better understanding and help you determine if you should reach out to a lawyer.
You'll want to get in touch with an attorney if you've experienced any of the following examples of workplace sexual harassment:
Sexually explicit emails, messages, or notes

Sexual rumors being spread about you or a coworker

A supervisor shows you a nude or sexually explicit photo or video

Sexual jokes

A manager asks you questions about your sexual preferences

A boss gives you gifts that are sexual or romantic in nature
In order for conduct to be considered sexual harassment under the law, the conduct must be either sufficiently severe or pervasive. The more severe the conduct, the less pervasive it has to be, and vice versa. For example, a single sexualized joke on one occasion may not be severe or pervasive enough to be considered sexual harassment, but repeated sexualized jokes on a daily basis could be considered pervasive enough to create a hostile work environment.
San Marino Sexual Harassment Lawyer Near Me 213-537-9225
California Law Protects Your Right to a Workplace Free of Sexual Harassment
California's Fair Employment and Housing Act (FEHA) makes it illegal to engage in sexually harassing conduct in the workplace. If you've faced any of the above examples of sexual harassment, whether it be quid pro quo or hostile work environment, the law protects your right to hire a sexual harassment attorney from San Marino and seek justice.
Under state law, you may also be entitled to pursue compensation if you experienced sexual harassment indirectly. For instance, if your peers at work talked or joked about another coworker openly and in a sexual manner, you may be able to seek damages for the bystander harassment you experienced.
Click to contact our California Sexual Harassment Lawyers today
How Our San Marino Sexual Harassment Lawyer Can Help You Seek Justice
Our attorneys are closely familiar with the laws that prohibit sexual harassment in your workplace. We can use our in-depth legal knowledge to investigate your case, build a facts-based claim, and hold the offending party accountable for the emotional distress, financial losses, and other challenges their actions have caused you to experience.
Here are several of the steps we'll take to get the results you need to move past this difficult time with confidence and financial stability:
Gather Evidence
First, our team will gather evidence of the unlawful harassment you experienced. We'll collect and analyze relevant emails, notes, witness testimonies, and any other records that contain information regarding the injustice you've endured. Once we have the information and evidence we need to support your claim, we'll be able to fight for the remedies you're owed.
Prove Liability
Once our team has gathered all the evidence we can find, we'll use it to establish that your employer should be held responsible for the sexual harassment you experienced on the job.
If you were harassed by a manager or supervisor, our team will only need evidence that the harassing conduct occurred as sexually harassing conduct committed by a manager or supervisor automatically makes the company liable for such conduct. On the other hand, if you were sexually harassed by a coworker, we'll need to demonstrate that your employer knew or should have known about the conduct and failed to prevent it from occurring. This is why it's important that you always report any sexual harassment by a co-worker to management and human resources so that the company is on notice of such conduct. have to take a few extra steps to prove that your employer should be held liable.
Fight for the Appropriate Financial Remedies
If you've experienced sexual harassment on the job, you might not be aware of all the damages you could obtain from a claim. Luckily, our sexual harassment attorneys from San Marino can review the details of your case and determine which remedies you're owed and how much compensation you should receive overall.
Once they've calculated how much you should receive, they'll use the evidence they've collected and legal arguments they've prepared to pursue the following financial remedies:
Front pay for the wages you potentially would have earned into the future if you weren't wrongfully terminated

Back pay for lost wages, benefits, retirement plan contributions, bonuses, and paid time off if the harassment you endured resulted in

wrongful termination

Emotional distress

Compensation for reputational harm

Punitive damages

, if appropriate
Complete a Free Case Evaluation form now
Meet With One of Our Sexual Harassment Lawyers from San Marino for Free
Zack Domb & Devin Rauchwerger have years of experience defending Fortune 500 companies from a variety of claims, including retaliation, wrongful termination, and harassment claims. They have inside knowledge of how employment defense lawyers operate and can use their unique skill sets to stand up against your employer's attorneys.
Contact Domb & Rauchwerger today to get the experienced and committed advocacy you need to combat sexual harassment and obtain the remedies you need to move forward with your career. We'll schedule a free consultation between you and a skilled San Marino sexual harassment lawyer to discuss your case and find out if you have grounds for a claim.
Call or text 213-537-9225 or complete a Free Case Evaluation form