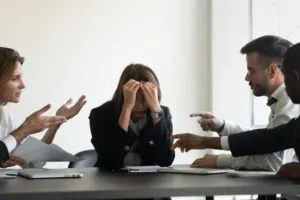 If you are employed in California, state law protects you from workplace discrimination motivated by a number of protected categories, including your gender identity. As a result, if you've faced transgender discrimination from a current, past, or potential employer, you have the right to file a claim for damages.
At Domb & Rauchwerger, we know how financially and emotionally devastating it can be to face discrimination at work. That's why our experienced transgender discrimination lawyers in California are committed to winning your case. A Hollywood transgender discrimination lawyer from our firm can work tirelessly to get the justice and compensation you're owed.
How to Know If You're Eligible to File a Transgender Discrimination Claim in Hollywood
Knowing whether or not you qualify to file a claim can be difficult, as some forms of gender identity discrimination can be more subtle than others. To find out for certain if you're eligible to take legal action, you'll want to talk to our transgender discrimination lawyers from Hollywood.
We can review the facts of your case and advise you if seeking financial remedies is the right choice. That said, you might want to learn more about the elements that make up a legitimate claim before you reach out to a lawyer. Familiarize yourself with the following two components of a valid transgender discrimination claim to find out if you're entitled to compensation:
Adverse Action
Just because you don't like the way your manager or supervisor is treating you doesn't mean you have the right to take legal action against them. To qualify for a discrimination claim, your employer must have taken an adverse action against you. An adverse action is an action that negatively changes the conditions, terms, or privileges of your employment.
There are a number of adverse actions you may experience at your workplace, including the following:
Employment termination

Demotion

Loss of health, 401k, and other benefits

Pay cut

Negative performance review

Denied promotion

Reduction in hours

Relief of job responsibilities
Protected Category
If an employer has taken one of the abovementioned adverse actions against you, it doesn't necessarily mean you qualify for a claim. You'll have to prove that the adverse action was motivated by your protected category. In the case of a transgender discrimination claim, you must demonstrate that the action was taken against you because of your transgender identity.
The Fair Employment and Housing Act (FEHA) protects you and other workers in California from getting fired, demoted, or suffering other adverse actions on the basis of their gender identity. This law also protects workers from discrimination based on sex, sexual orientation, and a variety of other protected categories.
If you believe your employer has taken an adverse action against you because of your gender identity, you don't have to navigate the legal process by yourself. A Hollywood transgender discrimination attorney from our law firm can prove you were discriminated against and fight for the financial remedies you need to move forward with your life and career.
For a free legal consultation with a Personal Injury lawyer serving Hollywood, call 213-537-9225
How Our Hollywood Transgender Discrimination Attorneys Can Help You Win Your Case
Filing a successful employment discrimination claim can be incredibly difficult, making it critical to work with a highly skilled lawyer. Our firm has in-depth experience handling claims like yours and can ensure all the appropriate steps are taken to maximize your chances of success.
Here's what a transgender discrimination attorney from our team in Hollywood can do to prove your case and recover the damages you deserve:
Investigate the discriminatory actions taken against you

Collect evidence, such as emails, messages, memos, testimonies from co-workers, and other records

Analyze evidence and use it to prove your employer was aware of your protected category and took an adverse action against you because of it

Use strong evidence and sound legal arguments to file a claim

Meet important filing requirements and deadlines

Fight for the damages you need to cover financial losses, cope with emotional damage, and get your career back on track
Hollywood Transgender Discrimination Lawyer Near Me 213-537-9225
Financial Remedies Our Transgender Discrimination Lawyers Can Pursue
Losing your job, getting a pay cut, or suffering another adverse employment action due to your gender identity can impact many aspects of your life. Our team understands the far-reaching consequences that transgender discrimination can have on employees like yourself, which is why we're committed to obtaining damages to improve your life.
Depending on the losses, psychological effects, and other challenges you've been burdened with, we may seek several or more of the following damages on your behalf:
Cessation of all discriminatory adverse actions

Institute a plan to prevent future discrimination

Lost wages if you've experienced

wrongful termination

Job search expenses

Emotional distress

Punitive damages, if deemed necessary

Attorneys' fees
Click to contact our personal injury lawyers today
Our Firm Is Uniquely Qualified to Handle Your Transgender Discrimination Case
In their previous positions, Zack Domb and Devin Rauchwerger were partners at a firm that defended Fortune 500 employers from wrongful termination, retaliation, and discrimination claims like yours. In addition, they were counsel to one of the largest LGBTQIA+ affiliated companies in the world and continue to raise money annually for the Transgender Law Center. As a result, they're intimately familiar with anyone who has suffered from transgender discrimination.
Using their valuable knowledge, Domb & Rauchwerger can stand up against your employer and demand the results you need to replace your losses and focus on your career. Contact us today to schedule a free consultation, find out if you have grounds for a claim, and get the skilled representation you need to win your case.
Call or text 213-537-9225 or complete a Free Case Evaluation form