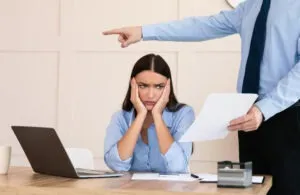 Altadena Employment Discrimination Lawyer Here To Fight for You
Whether you're interviewing for a new position, starting a new job, or working at a company you've been part of for years, you deserve to be treated fairly and respectfully. Unfortunately, many employers in California discriminate against workers of certain protected classes and violate state laws that protect employees from unfair workplace treatment.
If you believe your employer has discriminated against you, you may have grounds for a claim. However, filing such a claim by yourself can be difficult, especially if you're dealing with the financial and emotional fallout of a discriminatory firing or other action. Luckily, an Altadena employment discrimination lawyer from Domb & Rauchwerger can help you. 
For a free legal consultation with a employment discrimination lawyer serving Altadena, call 213-537-9225
Laws That Protect You From Workplace Discrimination in Altadena, CA
Our California Employment Discrimination Lawyers are familiar with all the laws that protect you from workplace discrimination. They'll use these laws to determine if you've experienced unlawful treatment and demand financial remedies for the impact that discrimination has had on you.
When working on your case, our team may reference any of the following laws:
The Civil Rights Act of 1964

: This act prohibits employers from discriminating against you because of your race, color, national origin, sex, or religion.

The Fair Employment and Housing Act

: This law protects California workers and prohibits employers from discriminating against you because of your race, national origin, sex, sexual orientation, age, pregnancy, religion, or because you have a disability. It also requires employers to provide you with reasonable accommodations so you can perform the essential functions of your job if you have a disability.

The Age Discrimination in Employment Act of 1967

: This piece of legislation protects you from age discrimination if you are older than 40.

The Americans with Disabilities Act (ADA)

: This law prevents employers from

discriminating against you because of a physical disability

. The act also requires your employer to provide you with reasonable accommodations.

The Pregnancy Discrimination Act

: This law protects you from

pregnancy discrimination or discrimination against a medical condition related to pregnancy.
As you can see, several laws protect you from discrimination in the workplace. While these laws provide a great deal of protection to workers, they can be difficult to understand or navigate. Fortunately, our employment discrimination lawyers from Altadena can explain the laws that apply to your case and determine if you have grounds for a claim.
Altadena Employment Discrimination Lawyer Near Me 213-537-9225
How Do I Know if I Have Grounds for an Employment Discrimination Claim?
If you feel like you've been mistreated at work, it doesn't automatically mean that you have grounds for a discrimination claim. A legitimate discrimination claim must include two important factors. To qualify for a claim, your employer must have taken an adverse employment action against you because you are a member of a protected category.
The law is specific about what counts as a protected category, so it can be helpful to familiarize yourself with the definition if you believe your employer is discriminating against you. You'll also want to learn more about adverse employment actions. Doing so will help you determine if hiring an Altadena employment discrimination attorney is right for you.
Protected Categories
The Fair Employment and Housing Act (FEHA) prohibits employers from discriminating against you on the basis of a protected category. According to the law, protected categories include the following:
Age (if over the age of 40)
Sexual orientation
Sex
Gender identity
Race
National origin, citizenship
Religion
Disability status/medical condition, genetic information
Marital status
Political affiliation
Military or veteran status
Pregnancy status
Hairstyle
Adverse Employment Actions
Discrimination must also involve an adverse employment action being taken against you. An adverse employment action is an action that your employer takes against you that negatively alters the privileges and conditions of your employment. Reach out to our Altadena employment discrimination attorneys if your employer has taken one of the following actions against you because of a protected characteristic:
Fired you
Demoted you
Gave you a pay cut
Gave you a negative performance review
Failing to hire you
Failing to promote you
Reprimanding you
Transferring you to another position
Blacklisting you
While the discrimination you're experiencing may seem obvious to you, your attorney must prove that you're being discriminated against to obtain financial remedies on your behalf. To do so, they must present evidence that shows your protected category was the direct motivation for the adverse action that your employer took against you.
Click to contact our California Employment Discrimination Lawyers today
Proving Causation in Your Employment Discrimination Case
One of the most important services that an employment discrimination lawyer from Altadena can offer is to prove causation in your case. When an employment discrimination attorney refers to "proving causation," they're talking about presenting evidence that shows the adverse employment action that was taken against you was directly motivated by your protected category.
Here's what an attorney from our team can do to connect the adverse action you experienced to your protected category:
Gather evidence, such as emails, documents, and witness testimonials, that show your employer was motivated to take an adverse employment against you because you belong to a protected category
Use evidence to show that the reason your employer provided you for as to why it took an adverse employment action against you was dishonest
Establish that your employer was aware of your protected category, as some categories, like pregnancy status, aren't immediately obvious
Show that the adverse employment action was taken shortly after your employer became aware of your protected category
Establish that you were treated differently from colleagues who are not in the same protected category as you
Complete a Free Case Evaluation form now
Compensation Available to Employment Discrimination Claimants
If an employment discrimination attorney from Altadena, CA, is able to prove causation, you'll likely receive compensation for the financial loss, loss of opportunity, and other challenges you've been burdened with due to the unfair treatment you experienced.
Depending on the specifics of your unique case, you could receive any of the following financial remedies from a successful claim:
The employer is required to cease all discriminatory actions and put a plan in place to prevent further discrimination
Wages you would have received if you weren't fired
Expenses associated with your job search
Emotional distress
Loss of enjoyment of life
Attorney's fees and court costs
Punitive damages, if our Altadena employment discrimination lawyers find that your employer acted maliciously
Our Altadena Employment Discrimination Attorneys Are Prepared To Handle Your Case
Zack Domb and Devin Rauchwerger have insider experience, making them the perfect choice for your discrimination case. Both attorneys previously served as partners at one of the largest employment defense firms in the nation. There, they protected high-profile employers from discrimination, wrongful termination, and retaliation claims.
During their time spent as employment defense attorneys, the team at Domb & Rauchwerger learned a great deal about the methods and tactics that lawyers use to combat claims like yours. Now that they've chosen to fight on behalf of the worker, they are able to use their inside knowledge to make their claim as successful as possible.
To benefit from the knowledge and resources of a highly experienced Altadena employment discrimination lawyer, contact our firm today and schedule a free consultation.
Call or text 213-537-9225 or complete a Free Case Evaluation form