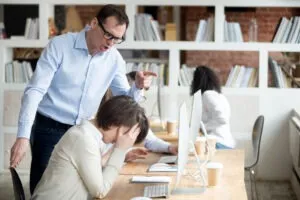 California Workplace Harassment Lawyer Here to Help You
No one should have to deal with harassing conduct motivated by their race, gender, religious beliefs, or other protected characteristic in the workplace. If you are experiencing unwelcome conduct from a co-worker or supervisor based on one or more of the protected categories discussed below, you might have grounds for a claim.
Reach out to a California harassment lawyer from Domb & Rauchwerger to find out if taking legal action is the right choice for you. If an attorney from our firm agrees to take on your case, they'll guide you through the process with compassion and patience.
For a free legal consultation with a harassment lawyer serving California, call 213-537-9225
What Qualifies As Workplace Harassment in California?
According to our team, harassment involves conduct that is unwelcome, motivated by a protected category, and significant enough that it creates a hostile environment or impacts the conditions of your employment. In order to be considered unlawful workplace harassment, the following factors must exist:
You were subjected to harassing conduct that was motivated by a protected category,

The harassing conduct is severe or pervasive,

A reasonable person in your position would have considered the conduct to be offensive or intimidating,

You actually considered the conduct to be offensive or intimidating,

The harassing conduct was either engaged in by a supervisor, or a supervisor or manager knew (or should have known) about the harassing conduct but failed to take any action to ensure that the harassing conduct stopped, and

That you suffered harm as a result of the harassing conduct
Determining whether you've experienced harassment can be difficult, as some forms of rude behavior might not qualify for a legal claim. Luckily, our California harassment lawyers are here to break down the factors that make up a valid unlawful harassment claim.
Protected Categories
In order to be considered a victim of illegal workplace harassment, you must have been targeted with harassing conduct because you belong to a protected category (or you are perceived to belong to a protected category). A protected category is a characteristic that the law prohibits employers and other entities from discriminating against and harassing people on the basis of.
According to the Fair Employment and Housing Act (FEHA), the following characteristics are considered to be protected categories:
Sex

Gender

Sexual orientation or gender identity

Skin color

Race

Religion

National origin

Pregnancy status

Marital status

Age, if over 40

Disability or genetic information
If you've experienced unwelcome conduct that you believe was motivated by you belonging to a protected category, don't hesitate to reach out to an unlawful harassment attorney from California. They can determine if you have grounds for a claim, gather evidence, and establish that the at-fault party should be held liable for your emotional distress and financial losses.
What Types of Conduct Could Be Considered Workplace Harassing
There are numerous types of behavior that could be considered harassing including:
Verbal harassment: rude comments, threats, slurs, obscene language

Physical harassment: touching, assault

Visual harassment: offensive objects, pictures, posters, emails.
Remember however that the conduct has to relate to a protected category. While the individual engaging in the harassment does not have to have an ill motive, it still has to be tied to a protected category. For example, a supervisor might make a joke that involves poking fun at someone's religion. The supervisor may not have an intent to offend or cause harm to the recipient of the joke, but the fact that the joke is motivated by the person's religion is potentially enough to create illegal harassment.
The Conduct Must Be "Severe Or Pervasive"
In order to be considered unlawful harassment, the harassing conduct must be severe or pervasive. It can be viewed as a sliding scale in that the more severe the conduct, the less pervasive it has to be, and vice versa.
A single action that is severe, like a supervisor physically attacking someone because of their race on a single occasion, could be enough to constitute unlawful harassment, however a single comment about someone's race that was intended to be a joke would likely not be sufficient so as to be considered illegal harassment.
However, if the supervisor makes a joke about someone's race every day for a month, the conduct likely is pervasive enough to create illegal harassment.
The Harassing Conduct Must Have Come from a Supervisor, Or a Supervisor Knew Or Should have Known About the Conduct
A company is automatically liable if one of its managers or supervisors engages in conduct that constitutes unlawful harassment. On the other hand, if a co-worker or third party engages in the harassing conduct, the company is not liable unless they know of the conduct or should have known of the conduct.
This means that if a co-worker unlawfully harasses you because you belong to a protected category, and there are no managers who observe the conduct and you do not report the conduct to any supervisor or manager, then it's likely the company will not be liable for the harassing conduct of your co-worker.
This is why it is critical to immediately report any unlawful harassment engaged in by a co-worker or third party that you interact with (like a customer or vendor), to a supervisor, manager, and the human resources department, and make sure you put your complaint in writing and save a copy of your complaint.
California Harassment Lawyer Near Me 213-537-9225
How Our California Workplace Harassment Attorneys Can Help You
Experiencing unlawful harassment in the workplace can be demoralizing and may lead to financial losses, psychological turmoil, and a number of other challenges. Dealing with the impacts of illegal harassment can be overwhelming enough to make taking legal action seem impossible.
Fortunately, our legal team can take all the steps required to obtain financial remedies for you. Here's what a California harassment attorney can do to make your case successful:
Gather and analyze evidence, like emails, written documents, and witness testimony, of the illegal harassment you experienced

Establish that the individual(s) who harassed you was aware of your protected category

Establish that the harassment you endured was motivated by your protected category

Prove that your employer either engaged in the harassing conduct (through either a manager or supervisor), or that your employer was aware that the harassing conduct occurred and failed to take corrective action

Demonstrate that the harassment you experienced was severe or pervasive enough to constitute a hostile workplace environment

Demand compensation for the economic and non-economic losses you've suffered
As you can see, there are many aspects of a harassment case that require a great deal of time and legal experience. Working with one of our California attorneys on your harassment case will help you take successful legal action against the offending individual and drastically improve your chances of receiving compensation.
Click to contact our Practice Areas today
Damages You Could Receive With the Help of an Experienced Lawyer
Our workplace harassment attorneys in California have years of experience in the field of employment law. They are familiar with all the damages available to victims of workplace harassment.
No matter how severely harassment has impacted your life, emotional well-being, and financial status, our team will be able to calculate how much you're owed and fight for the compensation you deserve. If we win your case, you could receive any of the following damages:
Current and/or future lost wages

Medical expenses if you experienced physical harassment that caused an injury

Emotional distress

Loss of enjoyment of life

Punitive damages

, under certain circumstances
Complete a Free Case Evaluation form now
It's Time to Turn to Our Experienced Workplace Harassment Lawyers in California
If you believe you're a victim of workplace harassment, now is the time to speak up and hold the offending party accountable for their actions. At Domb & Rauchwerger, we have the experience necessary to take on your employer or co-worker's attorneys and secure the financial remedies you're owed.
Our founding partners, Zack Domb & Devin Rauchwerger, once worked as partners at one of the largest employment defense firms in the United States. In their previous positions, they defended employers from harassment claims like yours. As a result, they know what it will take to beat your employer's defense team in a legal battle.
To gain the help of a highly knowledgeable and committed California harassment lawyer, contact our firm today and schedule a free consultation. We look forward to hearing from you and advocating on your behalf.
Call or text 213-537-9225 or complete a Free Case Evaluation form