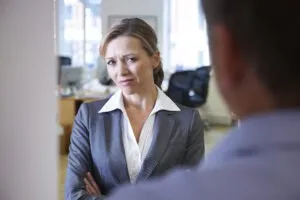 Experiencing sexual harassment on the job can leave you feeling demoralized and unsure who to turn to for help. No one should have to feel that way at work, which is why the California sexual harassment lawyers at Domb & Rauchwerger are committed to combatting harassing misconduct in the workplace.
If you've experienced this type of misconduct at work, a La Canada Flintridge sexual harassment lawyer from our firm can use their in-depth legal knowledge and experience with these types of cases to hold the offending party accountable for your emotional distress, income loss and any other struggles you've endured due to sexual harassment.
Forms of Sexual Harassment a Lawyer from La Canada Flintridge Can Seek Damages For
According to California's Fair Employment and Housing Act (FEHA), it's illegal to engage in sexually harassing conduct in the workplace. That said, sexual harassment can come in many different forms, and some types may be more subtle and harder to recognize than others.
If you feel as though you've endured sexually harassing behavior at your place of work but aren't sure if the conduct you've been subjected to is unlawful, an experienced legal advocate can help you. A sexual harassment attorney from La Canada Flintridge can determine if you've experienced any of the following types of sexual harassment:
Quid Pro Quo Sexual Harassment
Quid pro quo sexual harassment refers to instances where an employer or supervisor offers you job benefits in exchange for your willingness to engage in sexual behavior or acts. For example, if your boss has offered you a raise in exchange for a sexual favor, you've experienced quid pro quo harassment and likely have grounds for a claim.
Hostile Work Environment Sexual Harassment
Hostile work environment harassment is a broader form of harassment that may include unwanted sexual advances, sexual remarks or jokes, comments motivated by gender or sexual orientation, distribution of explicit materials, and a number of other forms of sexually harassing behavior.
To qualify as hostile work environment sexual harassment, the conduct you're subjected to must be either severe or pervasive enough that a reasonable person would consider it abusive or detrimental to their ability to perform work duties.
Common Examples of Sexual Harassment
While familiarizing yourself with hostile work environment and quid pro quo sexual harassment can be helpful, reviewing examples of sexually harassing conduct can also help you determine if you've endured unlawful behavior at your workplace.
Our La Canada Flintridge sexual harassment lawyers can help you seek financial remedies if you've experienced any of the following situations at your place of work:
Your supervisor or coworker openly discusses or asks you about sexual proclivities or sexual orientation

You receive unwelcome gifts from another employee

Your manager makes repeated comments about you or another worker's attractiveness

A coworker makes jokes or remarks of a sexual nature

You receive a sexually explicit email, video, or photo from your boss or coworker

A coworker spreads sexual rumors about you or another coworker
You don't have to be the direct target of sexually harassing behavior to potentially have a claim. If you're a bystander, but the sexually harassing conduct has negatively impacted your work environment, you can still speak with an attorney to obtain justice and financial remedies. If you're still unsure about whether you've experienced unlawful harassment at your job, our team can review your situation and let you know if your rights have been violated.
For a free legal consultation with a Personal Injury lawyer serving La Canada Flintridge, call 213-537-9225
How Our La Canada Flintridge Sexual Harassment Attorneys Can Help You Seek Compensation
Obtaining financial remedies after experiencing workplace sexual harassment can be extremely difficult, especially if you're unfamiliar with the legal process and are dealing with emotional distress and financial losses from the circumstances you've endured.
Fortunately, an experienced lawyer from our team can take a number of actions geared toward holding your employer accountable for the economic and non-economic losses you've been burdened with. Here's what our firm can do to help you during this challenging time;
Investigate the sexual harassment you experienced and collect evidence to prove that your employer should be held responsible for it

Use evidence to establish that your employer engaged in sexually harassing conduct, knew about harassing conduct perpetrated by a coworker, or should have known about a coworker's sexually harassing behavior

File a strong, fact-based claim on your behalf

Fight for the financial recovery you need to move forward
La Canada Flintridge Sexual Harassment Lawyer Near Me 213-537-9225
Compensation You Could Receive With the Help of a Sexual Harassment Lawyer
The compensation you receive from a successful sexual harassment claim can help you cope with the psychological effects of harassment, income-related losses, and other issues or struggles you may have been burdened with due to the harassing conduct you experienced.
Depending on the losses you've taken on and the challenges you've faced, our law firm can help you seek several or more of the following financial remedies:
Front pay and back pay if you were

wrongfully terminated

Emotional distress

Reputational harm

Loss of future employment opportunities

Punitive damages, if necessary
Click to contact our personal injury lawyers today
Schedule a Free Consultation With a Trusted La Canada Flintridge Sexual Harassment Attorney
The damages mentioned above can help you move past the sexually harassing behavior you endured at your workplace and focus on your future. However, it can be incredibly difficult to obtain the remedies you're owed without the help of an experienced and committed attorney.
At Domb & Rauchwerger, our team has extensive experience with claims like yours and can ensure all the necessary steps are taken to make your case as successful as possible. Contact us today to schedule a free consultation, find out if you have grounds for a claim, and get the dedicated representation you need to put this difficult time in the past.
Call or text 213-537-9225 or complete a Free Case Evaluation form