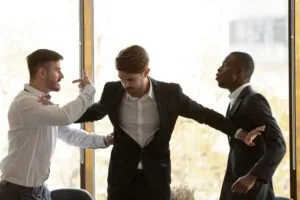 If you've faced disability discrimination at your place of work, you might be experiencing emotional distress, financial losses, and a number of frustrating employment-related challenges. Fortunately, there are several steps you can take if you experience disability discrimination at work.
At Domb & Rauchwerger, our California disability discrimination lawyers are committed to providing the information and advocacy you need to take action against your employer and obtain meaningful financial remedies. We'll work hard to hold your employer liable for the struggles you've faced and fight for the damages you need to move forward with your career.
Understand the Laws that Protect You from Disability Discrimination at Work
If you believe your employer has discriminated against you based on your disability, it can be helpful to familiarize yourself with the laws that protect you from such unlawful treatment. Under the Fair Employment and Housing Act (FEHA), employers in California are prohibited from taking adverse actions against you because of your disability.
The law also requires employers to provide reasonable accommodations for your qualifying disability. Qualifying disabilities include physical disabilities, mental disabilities, and medical conditions that limit your ability to participate in major life activities, like walking and taking part in family activities.
If you have a qualifying disability, your employer cannot take an adverse action against you or, in other words, an action that impacts the terms, conditions, or privileges of your employment negatively. Your employer must also provide reasonable accommodations to help you complete the essential functions of your job.
If upon reviewing the laws that protect disabled workers, you believe you have been discriminated against or denied reasonable accommodations, there are several steps you can take to combat the disability discrimination you've experienced at work. Let's discuss the actions you should take to obtain justice and financial compensation.
For a free legal consultation, call 213-537-9225
Keep a Record of the Disability Discrimination You've Experienced at Work
When you eventually file a claim against your employer, you'll need evidence to show that the adverse action they took against you was directly motivated by your physical, mental, or medical condition. If you were denied reasonable accommodations, you'll also need evidence to prove it.
Make sure to take the following steps to document the disability discrimination you experienced at your place of work:
Keep a Journal of Relevant Events
Whenever you experience disability discrimination, write down what happened. You'll want to include who witnessed the incident, what the offending party did or said, when the incident occurred, and whether it made you feel upset, embarrassed, etc.
Your journal of the incident can show how the discriminatory event impacted your emotional well-being, which may be useful when seeking damages for emotional distress. Keeping a log of the place, time, and witnesses of the incident can also help your attorney when they are building a facts-based claim on your behalf.
Document Relevant Discussions
If you were discriminated against at work or denied reasonable accommodations, keep any evidence of relevant discussions that occurred in writing, over email, or through other means of communication, such as text messages. Doing so can help strengthen your case against your employer.
For example, if you have a series of emails in which you repeatedly asked for a specific accommodation, but your employer ignored your requests or denied them, it can be used to prove your rights were violated. Similarly, if you have written documents that show you were denied a leave of absence for your qualifying medical condition, it can be used for your claim.
Speak to an Experienced Disability Discrimination Attorney
Once you've recorded and organized all the evidence you can find, you'll want to speak to a skilled lawyer. Filing a claim and fighting for the damages you deserve can be an incredibly difficult process, so it's highly recommended that you work with an attorney when doing so. Navigating the claims process without a lawyer could cause you to make an error that hurts your case and your ability to recover damages.
An attorney can take the following steps to ensure your disability discrimination claim goes as smoothly as possible:
Investigate the unlawful treatment you experienced

Analyze the evidence and records you provide

Gather additional relevant evidence to build a strong case on your behalf

Determine which financial remedies you're entitled to receive and calculate how much you're owed overall

File a claim and take further legal action against your employer

Fight for the results you need to cope with your situation and move forward

Offer sound legal advice throughout the entire process

Meet important state filing requirements and deadlines
Compensation You Could Receive With the Help of a Skilled Lawyer
Working with an attorney on your case will dramatically increase your chances of receiving a fair payment for the financial losses, emotional suffering, and other inconveniences you've experienced. Depending on how the disability discrimination you've experienced has affected you, you may receive several or more of the following damages:
Back pay and front pay

Emotional distress

Attorney's fees

Court costs

Punitive damages
Click to contact our personal injury lawyers today
Choose Our Highly Experienced Legal Team to Represent You
Attorneys Zack Domb and Devin Rauchwerger both have years of experience working as partners for one of the largest employment defense firms in the country that protected Fortune 500 employers from disability discrimination, wrongful termination, and retaliation claims. During their time spent defending employers from claims like yours, they gained a great deal of knowledge they can leverage in your favor.
Using their impressive legal experience and knowledge of employment defense lawyer's tactics, they can go up against your employer and fight for the damages you're owed.
Contact Domb & Rauchwerger to learn more about the steps you can take if you experience disability discrimination at work. If they find you have grounds for a claim, they'll work tirelessly to make your case successful.
Call or text 213-537-9225 or complete a Free Case Evaluation form